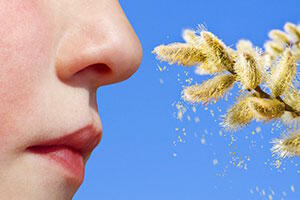 The return of longer days, warmer weather and sunshine are among the many joys of spring. But for some people, spring is a difficult time, marking as it does the start of the allergy season. Primarily caused by tree and grass pollen, these allergies manifest as allergic rhinitis or hay fever
1
. This is essentially inflammation of the nasal walls which causes an itchy, runny nose and sneezing, and symptoms can quickly become extremely tiresome and unpleasant. The good news is that natural solutions are available to tackle them. Here we look at a selection of natural remedies for beating these troublesome seasonal allergies.
Butterbur, a natural remedy for fighting seasonal allergies
Proven efficacy against seasonal allergic rhinitis (SAR)
Though certain plants may be responsible for allergic reactions, others can help relieve them. Butterbur is one such medicinal plant which is recommended for seasonal allergies. Its efficacy against SAR was confirmed in a 2003 study conducted by Scottish researchers
2
. Published in the specialist journal
Clinical & Experimental Allergy
, this study involved 20 individuals with grass-pollen-sensitized SAR. Participants were given either a 50mg butterbur supplement twice a day, or a placebo. In order to evaluate the supplements' efficacy, adenosine monophosphate (AMP), a molecule involved in the allergic response, was also administered following each treatment. After two weeks, the researchers observed a decrease in AMP concentrations in those subjects given the butterbur supplements, confirming the plant's efficacy in relieving SAR. The benefits of this medicinal plant can be found in the dietary supplement:
Butterbur Extract
, available from the Supersmart catalogue.
Targeted effect against allergic reactions
So how exactly does butterbur work in providing relief from allergic reactions? One of a number of studies conducted on the plant comes from a Japanese research team whose findings on its mechanism of action were published in 2006
3
. They showed that supplementation with butterbur may suppress type 1 allergic reactions - immediate hypersensitivity to a seasonal allergen. These results were obtained with rats, guinea pigs and specialised cells. Butterbur appears to act at different levels, inhibiting the release of beta-hexosaminidase, the production of both C, D and E leukotrienes and TNF-alpha, as well as the constriction of smooth muscle induced by histamine and D leukotrienes. All of these reduce the allergic reaction that occurs in hypersensitivity to grass or pollen and are another reason to take advantage of butterbur's anti-allergy virtues.
Combining natural extracts for a synergistic effect against allergies
Plant extracts with anti-allergy properties
Other natural extracts have been studied for their benefits in relieving seasonal allergies; indeed, thousands of scientific studies have been conducted on the subject. Some have focused on plants, while others have investigated fruits, seeds, pods, roots and bark. A number of plant extracts have demonstrated beneficial effects against allergies. Researchers have, for example, identified active principles with anti-inflammatory properties which can potentially relieve the inflammatory response produced by seasonal allergies. Other compounds have been highlighted for their antioxidant power and stabilising effect on cell membranes. Based on these discoveries, scientific studies have been conducted to evaluate the potential synergistic effects of combining several natural extracts. Such research has led to the development of patented blends including the formulation Pantescal™ which contains extracts of olive leaves (
Olea europaea
), caper buds (
Capparis spinosa
), blackcurrant leaves (
Ribes nigrum
) and ginseng (
Panax ginseng
). In a study of 40 individuals, this patented blend was found to significantly reduce allergic reactions, displaying efficacy comparable to that of cetirizine, a widely-used allergy medication
4
. Hence its inclusion in the formulation of products such as
Aller Fight
available from the Supersmart catalogue. Another blend of plant extracts has also been patented as a result of its anti-allergy potential:
Aller-7®
. It combines seven extracts with anti-allergy properties:
Phyllanthus emblica, Terminalia chebula, Terminalia belerica, Albizia lebbeck, Zingiber officinale, Piper longum and Piper nigrum
.
Quercetin, a natural, powerful active principle for fighting allergies
There is one active principle common to many of the previously-mentioned plant extracts: quercetin. One of the family of flavonoids known for their antioxidant potency, quercetin has also shown natural anti-inflammatory and anti-histamine properties which suppress symptoms triggered by allergens such as pollen. A number of studies have shown that quercetin may impede the release of histamine
5,6
, the compound involved in the allergic response. By reducing histamine secretion, quercetin thus helps suppress allergic symptoms such as SAR. The anti-allergy properties of this flavonol can be found in many natural foods, but often at low levels. That is why specific dietary supplements have been developed, such as the concentrated Supersmart formulation:
Super Quercetin 500 mg
.
Benefits of vitamin E supplementation for allergic rhinitis
Some of the irritating symptoms of allergic rhinitis may be eased by supplementing with vitamin E. So concluded a study published in 2004 in the journal
Annals of Allergy, Asthma & Immunology
4
. In this study, a team of Israeli researchers evaluated the efficacy of vitamin E supplementation among a group of 112 hay fever-sufferers. Subjects received either 800mg/day of vitamin E or a placebo, alongside their normal anti-allergy treatment, and were asked to record their symptoms daily for the duration of the study. At the end of the study, the researchers observed an improvement in nasal symptoms in the vitamin E-supplemented subjects, suggesting that such treatment may help reduce the discomfort caused by seasonal allergies. Vitamin E is available in dietary supplement form such as the new formulation
Gamma E Tocopherols
which combines several forms of vitamin E in a single capsule.
The effect of probiotics on seasonal allergies
Probiotics for combatting rhinoconjunctivitis
One recent discovery could well improve daily life for allergy-sufferers. Widely-studied in recent years, probiotics have now been shown to have a positive effect on seasonal allergies. Though primarily known for improving gut flora, it seems these living microorganisms may also offer therapeutic benefits for rhinoconjunctivitis. This is rhinitis and conjunctivitis experienced simultaneously, the latter being inflammation of the layer of tissue that covers the front of the eye membrane. Allergic rhinoconjunctivitis is a relatively common complaint among seasonal allergies. In 2017, a study published in the prestigious
American Journal of Clinical Nutrition
showed certain strains of probiotic to be effective against rhinoconjunctivitis
5
.
Probiotics effective for seasonal allergies
In a study of seasonal allergy-sufferers, researchers evaluated the therapeutic benefits of several strains of probiotic:
Lactobacillus gasseri, Bifidobacterium bifidum
and
Bifidobacterium longum
. Over eight weeks of the allergy season, a total of 173 subjects were given either two capsules of probiotics a day, equivalent to around 3 billion microorganisms, or a placebo, and were asked to complete a questionnaire documenting their symptoms. Blood samples were also taken in order to measure levels of immune cells involved in allergic reactions. At the end of the study, an improvement in quality of life was observed in the supplemented subjects, though the biological mechanisms responsible remain unknown. Dietary supplements are available containing several strains of theses beneficial probiotics such as
Lactobacillus gasseri
and
Bifidobacterium longum
---
> Sources :
1. Organisation Mondiale de la Santé (OMS), Affections respiratoires chroniques - Rhinite allergique et sinusite, 2017.
2. Lee DK, Carstairs IJ, Haggart K, Jackson CM, Currie GP, Lipworth BJ, Butterbur, a herbal remedy, attenuates adenosine monophosphate induced nasal responsiveness in seasonal allergic rhinitis, Clin Exp Allergy. 2003 Jul;33(7):882-6.
3. Shimoda H, Tanaka J, Yamada E, Morikawa T, Kasajima N, Yoshikawa M, Anti type I allergic property of Japanese butterbur extract and its mast cell degranulation inhibitory ingredients, J Agric Food Chem. 2006 Apr 19;54(8):2915-20.
4. Shahar E, Hassoun G, Pollack S, Effect of vitamin E supplementation on the regular treatment of seasonal allergic rhinitis, Ann Allergy Asthma Immunol. 2004 Jun;92(6):654-8.
5. Bobbi Langkamp-Henken et al., Probiotics (Lactobacillus gasseri KS-13, Bifidobacterium bifidum G9-1, and Bifidobacterium longum MM-2) improve rhinoconjunctivitis-specific quality of life in individuals with seasonal allergies: a double-blind, placebo-controlled, randomized trial, Am J Clin Nutr., 2017.