22-11-2012
A new study confirms the benefits of multivitamin supplements in reducing the risk of cancer
The Physicians' Health Study II, a large-scale, randomised, double-blind study, involved 14,641 male US doctors or health professionals aged 50 and over, 1312 of whom had a history of cancer. The study began in 1997 and ended in June 2011. .
The results have just been published and show that men who took a daily multivitamin complex had a statistically significant lower risk (around 8%) of total cancer in comparison with a placebo group.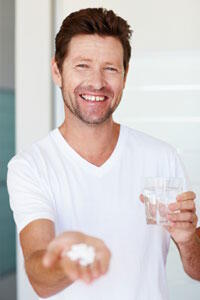 The multivitamin complex used in the study comprised all the water- and fat-soluble vitamins, the principal minerals and trace elements (magnesium, zinc, selenium, iodine, manganese, chromium, molybdene and boron), as well as two essential carotenoids – lutein and lycopene. All these nutrients act together to compensate for any shortfalls in the diet.
The study's findings on the effects of daily multivitamin supplementation on cardiovascular health, vision-related diseases and cognitive decline are being published separately.
These results confirm those of earlier studies which show that supplementing with a multi-vitamin and mineral complex is only way of ensuring, on a daily or even several-times-a-day basis, that the body has all the basic elements necessary for good health, and is therefore the perfect way to complement the diet. Daily multivitamin supplements thus offer major HEALTH PROTECTION to ensure optimal well-being for the whole family.
J. Michael Gaziano, MD, MPH; Howard D. Sesso, ScD, MPH; William G. Christen, ScD; Vadim Bubes, PhD; Joanne P. Smith, BA; Jean MacFadyen, BA; Miriam Schvartz, MD; JoAnn E. Manson, MD, DrPH; Robert J. Glynn, ScD; Julie E. Buring, ScD. Multivitamins in the Prevention of Cancer in MenThe Physicians' Health Study II Randomized Controlled Trial. JAMA. 2012;():1-10. doi:10.1001/jama.2012.14641.
The aim of the study was to determine whether long-term daily vitamin and mineral supplementation reduces cancer risk in men aged 50 and over.
Order the nutrients mentioned in this article
Daily Booster
Optimised formulation with PQQ
Advanced anti-ageing formulation - to take alongside your usual multivitamin supplement
www.supersmart.com
Daily 3®
The most complete multivitamin supplement you can take in a single capsule
www.supersmart.com