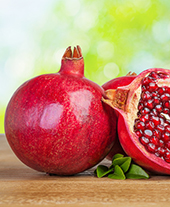 The fight against ageing continues. Researchers working for a start-up biotech company have discovered the beneficial effects of urolithin A
1
, a substance produced during the digestion of
pomegranates
, sometimes referred to as 'the fruit of the gods'.
Urolithin A is produced when antioxidant compounds called ellagitannins – found abundantly in pomegranates - are broken down
2,3
. This metabolic conversion varies depending on the individual and their gut microflora: researchers found that pomegranate consumption produced more urolithin A in some people than others, though they were unable to explain why
4
. In any case, it was the substance itself which interested them. They observed that in vitro, it
increased the lifespan
of nematode worms, with short- and long-term effects. On further investigation, they identified the mechanism responsible for this beneficial effect: urolithin A relaunches a mitochondrial clean-up process essential for good health but which declines with age. Dysfunctional mitochondria may actually play a role in the majority of degenerative diseases, and particularly in the loss of muscle mass seen in older people, itself an important risk factor for mortality
5
.
The next step is to examine this very promising substance for its anti-ageing effects in humans, and over time. In the meantime, we will have to be satisfied with eating fresh pomegranate or taking purified supplements (such as
Double Pomegranate
) to benefit from urolithin A .When you think of the pomegranate's
remarkable antioxidant potency
6
and many health virtues, this is not such a bad option …
---
Sources :
1-Dongryeol Ryu, Laurent Mouchiroud et al. Urolithin A induces mitophagy and prolongs lifespan in C. elegans and increases muscle function in rodents. Nature Medicine, July 2016 DOI: 10.1038/nm.4132
2- Johanningsmeier, S.D. & Harris, G.K. Pomegranate as a functional food and nutraceutical source. Annu. Rev. Food Sci. Technol. 2, 181–201 (2011).
3- Espín, J.C., Larrosa, M., García-Conesa, M.T. & Tomás-Barberán, F. Biological significance of urolithins, the gut microbial ellagic acid–derived metabolites: the evidence so far. Evid. Based Complement. Alternat. Med. 2013,270418 (2013).
4-Tomás-Barberán, F.A., García-Villalba, R., González-Sarrías, A., Selma, M.V. & Espín, J.C. Ellagic acid metabolism by human gut microbiota: consistent observation of three urolithin phenotypes in intervention trials, independent of food source, age and health status. J. Agric. Food Chem. 62, 6535–6538 (2014).
5- Drummond, M.J. et al. Downregulation of E3 ubiquitin ligases and mitophagyrelated genes in skeletal muscle of physically inactive, frail older women: a crosssectional comparison. J. Gerontol. A Biol. Sci. Med. Sci. 69, 1040–1048 (2014).
6- Gil MI, Tomas-Barberan FA, Hess-Pierce B, et al. Antioxidant activity of pomegranate juice and its relationship with phenolic composition and processing. J Agric Food Chem 2000;48:4581-9.