21-06-2017
Green tea: preventive effects against diabetes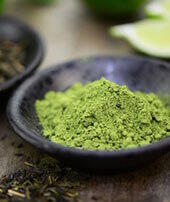 Green tea has been a source of scientific interest for several years, largely because of its polyphenol content. Polyphenols are recognised as potent, natural antioxidants able to counteract oxidative stress and free radical damage. Scientists believe they have a number of protective effects, particularly for the heart and liver
1
. Several studies have shown that the antioxidants in green tea offer considerable therapeutic potential, primarily in helping to protect against metabolic diseases such as hyperlipidaemia and diabetes. In this context, green tea's effects in preventing diabetes were recently the subject of a large-scale study conducted in Japan
2
. Here we explore its promising results.
Large-scale study on green tea
The Japanese research team investigated the effects on diabetes of a traditional diet, with a particular focus on intake of rice and green tea. Recent observations had suggested that excessive rice consumption could be a risk factor for diabetes, while conversely, several studies had confirmed diabetes-protective effects for green tea. To better understand and build on these findings, the researchers conducted a cohort study involving thousands of elderly Japanese men and women. Between 2010 and 2012, more than 11000 people responded to their survey. Incidence of diabetes among these individuals was measured using several parameters one of which was consumption of green tea and cereals such as rice.
Promising results for controlling diabetes
Published in the
Asia Pacific Journal of Clinical Nutrition
2
, the results of this cohort study confirmed certain of the researchers' hypotheses. They observed a positive association between consumption of rice and the development of diabetes. However, in women only, this association disappeared in those with a higher intake of green tea – at least seven cups a day. In general, incidence of diabetes was lower in those individuals who drank green tea. Their findings both support the theory that excessive rice intake is positively associated with risk of diabetes, and confirm the protective effects of green tea.
tab://%20[%20Anglais%20]%20/ This large-scale cohort study provides confirmation of green tea's therapeutic potential. While its mechanisms of action are not yet fully understood, green tea offers a number of protective effects, benefits which appear to be primarily linked to its high polyphenol content. As a result, dietary supplements have been developed to offer a concentrate of green tea polyphenols.
---
> Sources :
1. Jiao H, Hu G, Gu D, Ni X. Having a promising efficacy on type II diabetes, it's definitely a green tea time. Curr Med Chem. 2015;22(1):70-9.
2. Hirata A, et al. Effect modification of green tea on the association between rice intake and the risk of diabetes mellitus: a prospective study in Japanese men and women. Asia Pac J Clin Nutr. 2017 May;26(3):545-555.
Order the nutrient mentioned in this article
Sunphenon® EGCg
Extract of green tea (Camellia sinensis) standardised to 95 % epigallocatechin- gallate
All the power of green tea - naturally!
www.supersmart.com