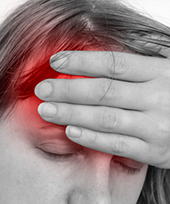 Unlike normal headaches, migraines cause intense, throbbing pain, often on one side of the head, close to the eye. There is so far no cure for the misery experienced by migraine sufferers; they simply have to retreat to a dark and quiet room and wait for the attack to pass.
Most migraine sufferers understandably turn to painkillers such as aspirin or acetaminophen (paracetamol or Tylenol®) or non-steroidal anti-inflammatories (NSAIDs) such as ketorolac. However, a number of studies have shown that regular use of such drugs can actually increase the frequency of migraines and trigger side-effects such as heartburn, and potentially ulcers. In addition, it's now known that they disrupt the body's production of
natural
analgesics and thus initiate a vicious circle
1
.
Now a study by Iranian researchers may offer
a credible alternative
for migraine sufferers. It has found that magnesium supplements may be more effective than the NSAID ketorolac, often prescribed by doctors for relieving pain. Two hours after taking a supplement containing 1 gram of magnesium sulphate, volunteers reported greater improvements than subjects taking 30mg of the NSAID. These results support the findings of other research which showed an association between lower than average blood levels of magnesium and greater susceptibility to migraine.
For providing long-term efficacy, you may prefer treatments that focus on relaxation, or physical therapies such as yoga, osteopathy or acupuncture.
With recognised effects on hypertension
2,3,4
and diabetes
5,6
,
magnesium (in its orotate, threonate or malate) forms, has added yet another string to its bow
. Combined with a relaxation technique such as acupuncture or yoga
7
, recognised for long-term efficacy against migraine, magnesium supplementation increases your chances of finding relief from the pain of migraine, without upsetting your body.
---
References :
1- Bendtsen L, Evers S, Linde M et al (2010) EFNS guideline on the treatment of tension-type headache: report of an EFNS task force. Eur J Neurol 17:1318–25
2- Jee SH, Miller ER 3rd, et al. The effect of magnesium supplementation on blood pressure: a meta-analysis of randomized clinical trials.Am J Hypertens. 2002 Aug;15(8):691-6.
3- Potassium magnesium supplementation for four weeks improves small distal artery compliance and reduces blood pressure in patients with essential hypertension. Wu G, Tian H, et al. Clin Exp Hypertens. 2006 Jul;28(5):489-97.
4- The effect of lowering blood pressure by magnesium supplementation in diabetic hypertensive adults with low serum magnesium levels: a randomized, double-blind, placebo-controlled clinical trial. Guerrero-Romero F, Rodríguez-Morán M. J Hum Hypertens. 2009 Apr;23(4):245-51. Epub 2008 Nov 20.
5- Song Y, Manson JE, et al. Dietary magnesium intake in relation to plasma insulin levels and risk of type 2 diabetes in women.Diabetes Care. 2004 Jan;27(1):59-65.
6- Magnesium intake and risk of type 2 diabetes: a meta-analysis. Larsson SC, Wolk A. J Intern Med. 2007 Aug;262(2):208-14. Review.
7- Bhatia R, Dureja GP, Tripathi M et al (2007) Role of temporalis muscle over activity in chronic tension type headache: effect of yoga based management. Indian J Physiol Pharmacol 51:333–44