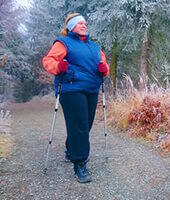 Obese people are often stigmatised for their lack of exercise but this could well change based on the results of a new scientific study. It seems obese individuals' low level of activity could be caused by dysfunctional receptors in the brain. In other words, their inactivity could actually be a consequence, rather than a cause, of their obesity. This was the conclusion of a study published in the prestigious scientific journal
Cell Metabolism
1
. Needless to say, this unexpected discovery has provoked much reaction among the scientific community.
Fall in dopamine activity in obese individuals
The American and Argentinian researchers responsible for this study started from the hypothesis that the reluctance to exercise felt by obese people could have a neurological explanation. They were particularly interested in the activity of dopamine, a neurotransmitter secreted in the central nervous system. Often talked about for its role in motivation, desire and satisfaction, dopamine is indeed involved in the brain's reward system. Interestingly, studies conducted in the area of Parkinson's disease showed that a fall in dopamine activity was associated with a reduction in movement. Similar observations had also been made in obese people, hence the researchers' interest in exploring the effect of obesity on dopamine activity.
Dysfunction in dopamine receptors implicated in obesity
To explain the fall in dopamine activity in obese people, the researchers carried out several tests on lean and obese mice. They found deficits in the dopamine receptor D2, known as D2R, which is located in a specific structure of the brain called the striatum. In order to evaluate the role of D2R, the research team genetically removed these receptors from the lean mice which led to a reduction in their physical activity. Conversely, restoring nerve signalling across D2 receptors in obese mice increased their physical activity.
Time for a new approach to managing obesity?
This study therefore suggests that the lack of activity could be more a consequence of obesity, rather than a cause. Confirming these results in humans could lead to both a better understanding of the effects of obesity, and to improvements in managing it. Regardless of this study, the importance of taking regular exercise and maintaining a healthy weight is indisputable. But these findings stress the need to avoid gaining weight in order to prevent dopamine-related complications in the longer term. Fortunately, there are many solutions available to help with weight loss. These include two new formulations based on the latest scientific advances: ,
Weight Loss Formula
and
Advanced Fat Burner
both of which are available from the Supersmart catalogue.
---
> Source :
1. Danielle M. Friend, Kavya Devarakonda, Timothy J. O'Neal, Miguel Skirzewski, Ioannis Papazoglou, Alanna R. Kaplan, Jeih-San Liow, Juen Guo, Sushil G. Rane, Marcelo Rubinstein, Veronica A. Alvarez, Kevin D. Hall, Alexxai V. Kravitz, Basal Ganglia Dysfunction Contributes to Physical Inactivity in Obesity, Cell Metabolism, 2016.