01-08-2008
Thé vert et apnée du sommeil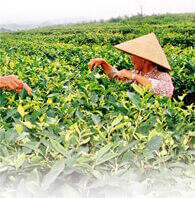 Les apnées se produisent lorsqu'au cours du sommeil la respiration est périodiquement interrompue, privant temporairement le cerveau d'oxygène. L'apnée du sommeil est associée à des modifications architecturales des régions du cerveau impliquées dans la mémoire et l'apprentissage, ainsi qu'à des déficits cognitifs que l'on pense en partie responsables d'une augmentation du stress oxydant.
Aux États-Unis, des chercheurs ont privé d'oxygène des rats de façon intermittente pendant des cycles de 12 heures. Ce traitement a eu pour conséquences une augmentation du stress oxydant et des déficits cognitifs similaires à ceux que l'on observe chez l'homme dans l'apnée du sommeil. Un groupe d'animaux témoins a reçu régulièrement l'air de la pièce. Des catéchines extraites de thé vert ont été ajoutées à l'eau de boisson de la moitié des rats privés d'oxygène pendant 14 jours. Des tests utilisant un labyrinthe d'eau effectués pour évaluer la mémoire et les capacités d'apprentissage des animaux et des tissus cérébraux ont été analysés pour évaluer les marqueurs de stress oxydant et d'inflammation. Les animaux privés d'oxygène et supplémentés en extrait de thé vert ont réussi nettement mieux les tests du labyrinthe d'eau que ceux n'ayant bu que de l'eau. Chez les rats non traités et privés d'oxygène, les marqueurs de stress oxydant avaient doublé par rapport aux témoins alors qu'ils avaient diminué de 40 % chez les animaux supplémentés.

(Am. J. Respir. Crit. Care Med., 2008, 177: 1135-1141.)
Retrouvez le produit relatif à cet article (Thé Vert) sur le site www.supersmart.com
Order the nutrient mentioned in this article
Sunphenon® EGCg
Extract of green tea (Camellia sinensis) standardised to 95 % epigallocatechin- gallate
All the power of green tea - naturally!
www.supersmart.com