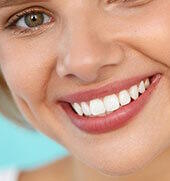 Have you heard of Triphala, the famous Ayurvedic formulation? Used for thousands of years for its detoxifying benefits, this combination of natural extracts has also revealed protective effects for oral health. Though it may not always 'grab the headlines', oral health is nonetheless essential to our general well-being
1
. The oral cavity is unfortunately a sensitive area, the integrity of which can be easily compromised on a daily basis. Mouth or gum disease can not only cause severe pain but also make it difficult to eat and speak. Such problems may be linked to risk factors like smoking, poor diet, excess alcohol or poor oral hygiene. But as we explore below, Triphala can help prevent the development of oral health problems such as dental caries and periodontal disease
2
.
Protective effect against dental caries
Highly-prized in India, Triphala combines the benefits of three fruits: Amla (
Emblica officinalis
), Behada (
Terminalia belerica
) and Harada (
Terminalia chebula
). In addition to its detoxifying properties, the last of these, Terminalia chebula, may also prevent or reduce the development of dental caries. Scientists have demonstrated that certain of its compounds inhibit sucrose adherence and glucan-induced aggregation, processes known to encourage the bacterial colonisation of the tooth surface which is responsible for tooth decay. This discovery is particularly significant given the global prevalence of dental caries: according to the World Health Organisation (WHO), almost 100% of adults worldwide have cavities in their teeth. This problem affects people of all ages and is caused by the formation of dental plaque which is made up of salivary proteins and food, as well as bacteria and their toxins. Scientists believe that dental plaque formation could be prevented by the action of the natural active principles in
Terminalia chebula
extract, by restricting the growth and accumulation of bacteria such as
Streptococcus mutans.
Potential of Triphala to protect against periodontal disease
In addition to its efficacy in preventing dental caries, Triphala has also been studied for its therapeutic role in periodontal disease. Affecting the teeth's supporting tissues, periodontal disease is caused by the activity of enzymes called matrix metalloproteinases. To combat their destructive effect, tetracycline-based treatments have been developed that are able to inhibit collagenase, one of the matrix metalloproteinase enzymes. However, while these treatments are effective, their long-term use is associated with a number of unwelcome side-effects, which is why scientists have investigated the efficacy of natural alternatives. Their research suggests that Triphala exhibits significant activity against collagenase and thus constitutes a serious therapeutic option.
This recent study confirms the therapeutic potential of the renowned Ayurvedic formulation Triphala, which with its many properties, offers considerable health benefits. Until now, it has been most often recommended as a detoxifier, but scientists have also shown it to have protective effects for oral health. Its efficacy is due to its unusual composition. For example, the tannic acids in Triphala may be responsible for its anti-bacterial effects. It also contains powerful antioxidants such as gallic acid, ellagic acid, vitamin C and certain flavonoids, as a result of which Triphala offers a number of health-protective effects. The many benefits provided by this combination of natural extracts are now available as a dietary supplement from the Supersmart catalogue: Triphala.


---

> Sources :
1. Organisation Mondiale de la Santé (OMS), Santé bucco-dentaire, Aide-mémoire N°318, Avril 2012.
2. Shobha Prakash, Anup U. Shelke, Role of Triphala in dentistry, J Indian Soc Periodontol, 2014 Mar-Apr; 18(2): 132–135.